The Galaxy Note 7 fiasco is likely to have a negative impact on South Korea's GDP
18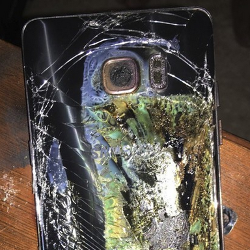 According to a fresh report from Reuters, the Samsung Galaxy Note 7 fiasco is bound to have a negative impact on South Korea's Q3 2016 GDP.
The report, quoting an unnamed finance ministry from the country, says that Samsung's decision to kill off the Galaxy Note 7 is estimated to have erased somewhere between 0.1 and 0.2 percent from South Korea's GDP quarter-on-quarter growth in Q3.
The news comes on the heels of a recent statement from the Bank of Korea, which estimated a Q3 GDP growth of 0.7 percentage points compared to the previous quarter.
In the past few weeks, we came to know just how big of an impact the Galaxy Note 7 conundrum has had on Samsung's financial wellbeing. Soon after issuing the second Galaxy Note 7 recall, Samsung slashed
its Q3 profit estimated by $2.3 billion
and nearly halved its revenue estimate to $43.5 billion. As if that wasn't enough, reports argue that Samsung may put a lot of
R&D projects on the backburner because of Note 7
. Also, a recent report from the WSJ claimed that
Samsung may also delay the launch of the Galaxy S8
.
It looks like the Note 7 recall and the decision to scrap the handset entirely spelled trouble not only for Samsung but for the entire South Korean economy. As a side comment, this highlights the weight that Samsung bears for the South Korean economy. Unfortunately for the entire nation of South Korea, however, it looks like the cause behind the Note 7 explosions remains unknown despite the fact that Samsung is allocating a lot of resources to identify the root of the problem.