WSJ: Samsung's investigation into the Galaxy Note 7 is delaying development of the Galaxy S8
14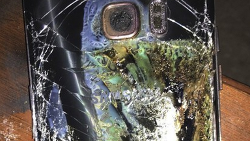 According to a report in Sunday's
Wall Street Journal
, Samsung might have made a huge mistake by issuing the initial recall of 2.5 million
Samsung Galaxy Note 7
units. The business newspaper says that the manufacturer had "incomplete evidence" that the batteries produced by its SamsungSDI division were to blame for the Galaxy Note 7 explosions at the time it announced the recall.
Samsung executives had seen imaging scans including X-Rays, showing how some Galaxy Note 7 batteries were protruding from the phone's casing. Models using batteries from China's ATL were not having this issue. The problem was that only 30% of the initial Galaxy Note 7 units produced were powered by the ATL batteries.
But as it turned out, the Samsung produced batteries clearly weren't the problem after all. This was obvious following
the second wave of explosions that affected the replacement models
. These units were distributed to Galaxy Note 7 buyers after they sent in their recalled unit. With its initial thoughts about the batteries shown to be incorrect, Samsung continues to investigate the Galaxy Note 7 explosions. Some possible explanations include a possible flaw with the circuit board, or a problem with the software that controlled how the battery acted with other components. Another thought is that the battery case might have been too small to house the Galaxy Note 7's battery.
The focus that Samsung has placed on getting to the bottom of the issue has forced them to delay the development of the Samsung Galaxy S8 by two weeks. The company is hoping that its new flagship phone will take everyone's mind off of the Galaxy Note 7. A teaser discovered earlier this month revealed that
the Galaxy S8 will be unveiled on February 26th
, the date before MWC 2017 opens. MWC eve has become a traditional unveiling date for Samsung's flagship handset, although it isn't clear if the unveiling will be pushed back by two weeks because of the aforementioned delay.
"We recognized that we did not correctly identify the issue the first time and remain committed to finding the root cause. Our top priority remains the safety of our customers and retrieving 100% of the Galaxy Note 7 devices in the market."-Samsung spokeswomen
Meanwhile, the fallout from the Galaxy Note 7 explosions continue. Samsung says that the recalls will cost it $5 billion. The stock,
which had hit an all-time high after the initial strong sales performance
of the phablet, has since cratered wiping $20 billion off Samsung's valuation.
source:
WSJ
Recommended Stories