The Black Screen of Death is afflicting some HTC EVO 3D users
26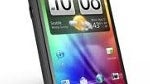 While the XBox 360 has the "Red Ring of Death" that appears when
a unit has bought the farm
, it appears that some HTC EVO 3D units have the "Black Screen of Death" that shuts down the phone for good. All of the usual attempts of resuscitation fail as the battery pull, the wall toss and the extra decibel scream shock fail to revive the smartphone, which continues to show nothing more than a black screen after each attempt.
A few HTC EVO 3D users posting on the Phandroid forum, posted that the "Black Screen of Death" had happened to their phone. All were using stock versions of the device with none of the phones rooted or revised in any manner. Those who are within their 30 day return window or have insurance have no worries. Others might have to
convince the appropriate Sprint executive
that they are entitled to a new unit. One Phandroid forum poster was able to get a new unit, but only after arguing up a mountain of executives.
Have any of our loyal readers been unlucky enough to experience the "Black Screen of Death" on their HTC EVO 3D? Were you able to wrangle a replacement unit from Sprint? You can let us know by simply typing in the comment box below!
source:
Phandroid