The $4 Freedom 251 smartphone's launch has been an utter trainwreck
34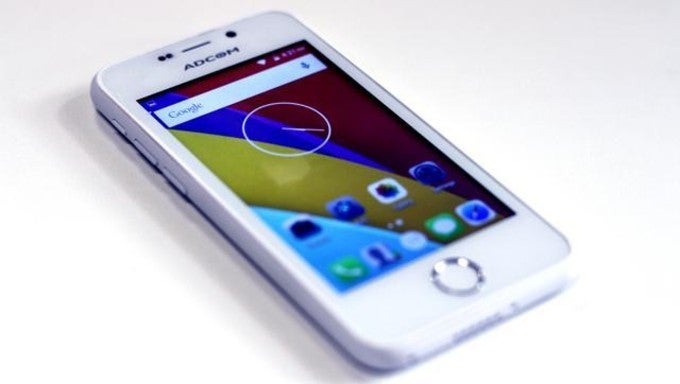 The Ringing Bells Freedom 251 surprised many with
its dimunitive price tag of just $4
, causing plenty of ruckus in its India homeland and tech circles worldwide. The device, or more likely, a pre-production prototype is already in the hands of journalists, and their impressions are nothing short of controversial. Little over a day after its online launch, the Freedom 251 seems both real, and also too good to be true. Surreal is the word, just like its price tag. Read on!
My name is what?
Unexpectedly, the Freedom 251 is emblazoned not with an original logo, but that of Indian tech vendor Adcom. Amusingly, the phone which publication Hindustan Times received, the logo was covered up with plain office whitener! But that can't cover up the fact that the device in question is the Adcom Ikon 4, a made in China smartphone that's sold across online retailers like Gadgets360, Amazon, Snapdeal, and Shopclues for around $60 (Rs. 4000). This is downright fishy, considering the Freedom 251 is supposed to be delivered under the government's "Made in India" program. Moreover, Adcom itself was unaware that its branding is printed on the Freedom 251, and claims to be looking into the matter.
Government matters
It's not just Adcom that's on the $4 smartphone's trail. Shortly after its problem-riddled launch, which we'll reflect upon later, the Indian Cellular Association wrote to India's Telecom minister Ravi Shankar Prasad, saying that the Freedom 251 cannot possibly cost less than $50 (Rs. 3000), even after subsidy. The bill of materials for the smartphone is estimated at $40, and the addition of applicable duties, taxes, distribution and retail margins would drive its retail price close to $70.
"There is no visible mobile operator subsidy involved in this, which in any case is not the way the Indian mobile market operates,"
added ICA president Pankaj Mohindroo.
So that's Adcom, the ICA, and... wait for it... Apple, that could be knocking on Ringing Bells' door pretty soon. Why Apple, though?
Android on iOS?
The Freedom 251 review units run an Android 5.1 build whose app icons are lifted straight from iOS. Even the one for the web browser looks like Apple's Safari, which doesn't exist on Android in any shape and form. Moreover, the circular Home button, along with the smartphone's overall looks, pretty much pass for a cheap iPhone replica.
Apparently, Ringing Bells isn't playing clueless about ripping off Apple. Asked about a possible intelectual rights violation, the company's technical director flat out said they used the iPhone's icons because they aren't copyrighted designs. Of course, that's completely untrue, and it only takes skimming through the intellectual property guidelines on Apple's website (
link
) to assume Cupertino might be ringing bells in India as we speak.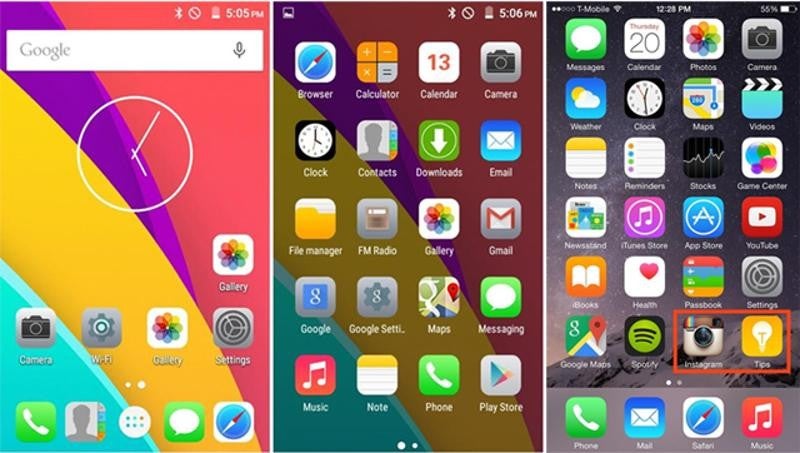 Freedom 251 - left and middle, iOS to the right. What a difference!
Website trainwreck
As of the time of writing, Freedom 251's website has been shut down. The company's spokesperson acknowledged that servers crashed after recieving 30,000 bookings. At one point, traffic amounted to 600k hits per second. A glitch in the system made it possible for some buyers to book up to 99 smartphones in one go. As if that's not shaky enough, a crowd of 100 crowded the company's head office in Noida, screaming to be given the smartphone because online orders are impossible.
"It is for farmers and fishermen, but how can they expect them to register online? Neither of us has internet access, nor we know how to operate a computer. We cannot order it online, so we are here for a unit or two,"
a local resident, Vikas Kumar, told IANS.
Online or offline, the end product is supposed to be delivered to bookers by June 30, and Freedom 251 plans to sell some 50 million units. It will be interesting to see that happen, considering Ringing Bells has made a very unconvincing case for itself – so much that at least one high-profile Indian politician has flat-out proclaimed the $4 smartphone a scam.
Ringing Ponzi
MJP member of parliament Kirit Somaya stated that he's
"went through all the papers of the company"
and shared his concerns on Facebook. According to him, Ringing Bells is a bogus company with no
"experience, financial net worth, land workshop warehouses, other infrastructure or finance."
Likewise, the Freedom 251 is not subsidised, nor certified, nor registered by any government agency. This is contrary to the company's statement that the smartphone has been developed
"with immense support"
from the government. Convinced the smartphone is a classic Ponzi scheme (
explanation
), he also wrote to India's minister of Communications and IT, asking for an intervention. A copy of the document is embedded below.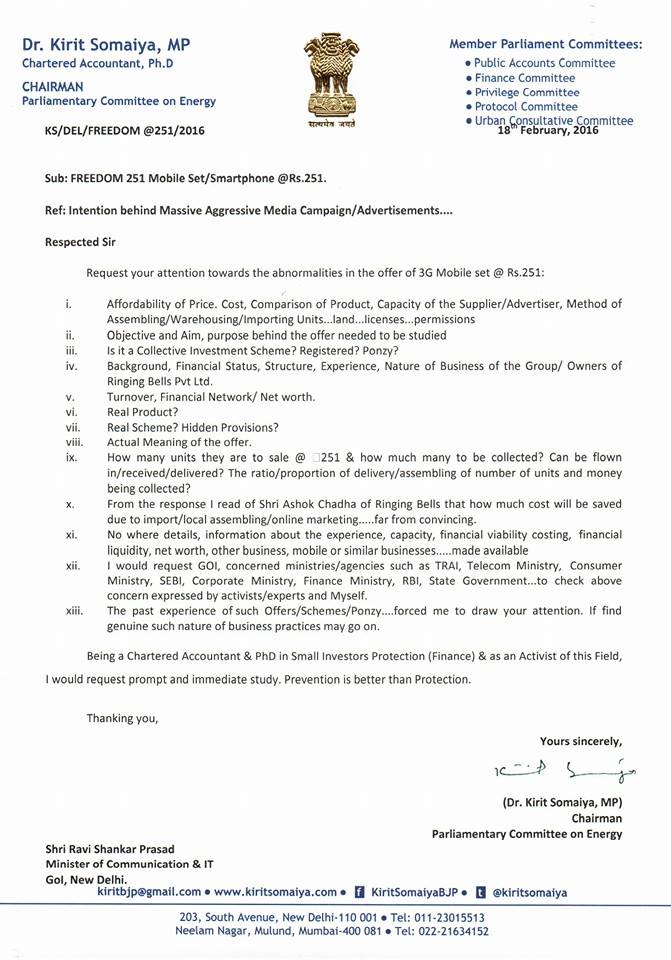 Conclusion
Seriously,
hold off from buying this smartphone
. $4 isn't much to lose, but that's still money going towards what seem to be a bunch of scammers. We've had
stuff like this happen in the past
, promising
too much for too little
. We won't be giving the Freedom 251 any further publicity unless Ringing Bells manages to clear up the confusion and deliver on its promises.