[Updated] Made In Germany - the Linshof i8 is an upcoming $380 octa-core flagship with 80GB of internal storage
48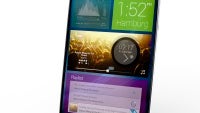 UPDATE 19/12/2014:
It looks like Linshof quietly bit the dust. The company's official website now reads:
"Linshof is closed. We understood that it would be a difficult project and we are grateful for having the opportunity to work on it. Unfortunately, our investors decided to close the project due to their own internal reasons. Thank you all for your wonderful support. Note: We have never accepted any kind of pre-orders, donations, or third party investments. All our liabilities and obligations were paid in full."
Better luck next time, gentlemen!
Smartphones are yet to appear among autobahns, beer, cars, sauerkraut, Chancellor Merkel, and other homegrown samples of German culture that paint a vivid picture of the nation for the rest of the world to see. But the newly introduced Linshof i8 begs to differ. It's a seriously custom phone with its own unconventional design, proprietary user interface, and some curiosities in its spec sheet that Linshof kindly clarified for us.
For starters, the phone has a 5-inch 1080p display with "Super AMOLED, IPS technology". That's impossible, of course, so let's explain. The company has functional prototypes with both display technologies, and will most likely produce both versions for different markets. CEO Dr. Tomas Bencik assured us that it "carefully color calibrated the Super AMOLED version" because it had "a little bit crazy colors, in our standards". Thus, both displays should be near identical in color reproduction.
Moving on, the Linshof i8 has 80GB of internal storage, which is an unusual number. How so? Linshof used one standard 64GB chip and an additional 16GB module, "dedicated to apps" and "clocked much faster than usual". Both modules are supplied by SanDisk. The smartphone is powered by a 32-bit octa-core 2.1GHz processor paired with 3GB of "fast clocked RAM". As the final specs could change ahead of the Q1 2015 release date (which happens all the time), Linshof opted not to elaborate right now.
Moving along, there is a 13MP rear camera with a 28mm wide-angle lens, F1.8 aperture value for low-light photography, and a Sony CMOS sensor. The front camera is an 8MP unit, but we all know it takes more than megapixels to take that perfect selfie.
A seriously custom phone with a very competitive price
The package is rounded out by Android 5.0 Lollipop, topped off with either Linshof's custom "hardware-accelerated" UI, or an optional touch-based Linux build, which is still in early works. The UI looks like a cross between Windows Phone and Samsung TouchWiz, showing familiar tiles, fonts, and color choices. The software keys are redesigned and positioned bottom left, while the status bar appears to their right, which is an unusual arrangement.
A 3100mAh battery drives the phone, which also offers GPS, Bluetooth v4.0, an electronic compass, a gyroscope, HDMI 1.4 support with 3D, NFC and WiFi/LTE (4G).
How much will you pay for all that? The Linshof i8 is priced at $380 unlocked, which is a very competitive price. It is expected to ship in Q1 2015. For tablet fans, a 10-inch Linshof tablet with the same design language and specs, save for a 2048x1536 display and 9000mAh battery will be available around the same time.