Out of nowhere, a company named xodiom announces a Snapdragon 805-powered beast for $329 and no invites
61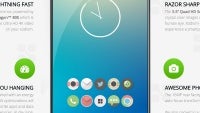 Warning - there's a high probability that this is a scam.
It's not every day that a company you've never heard of, called Xodiom, completely skips the media brouhaha and straight up launches a website where you can pre-order its sub-$399 Snapdragon 805-powered superphone that is on release schedule for January 5, 2015. And if you go as far as clicking or tapping the big green Buy button, you're greeted with a message that reads "To buy the xodiom you DO NOT need an invite, hooray for freedom ;-)" - verbatim!
Is this the anti OnePlus, a good ol' scam, or just a honest company disrupting a dishonest market? We are yet to find out. The only intel we have on Xodiom is that its web-page is made by German design company Hammar AG, so we figured it could be a German company. Could this be the second great German mobile uprising since
Linshof introduced us to its octagonal-shaped Linshof i8
, a smartphone in the making that's quite unlike any other?
Well, January 2015 is coming pretty soon, so we'll be seeing about that. Now, let's focus on the "sub-$399 superphone" part. The xodiom (spelled in lowercase) is a
Meizu MX4 Pro
lookalike with a 5.5-inch QHD Super AMOLED screen, a Snapdragon 805 2.7GHz quad-core processor, 3GB of RAM and 32/64GB of expandable storage, a 16MP rear camera with phase detection autofocus and OIS, a 5-megapixel "distortion free" front cam, and a 3200mAh battery. The smartphone is sized 152.7 x 75.9 x 6.6mm (6.01 x 2.98 x 0.25in) and runs Android 5.0 topped off with a custom user interface by the name of "xOS".
The smartphone is capable of everything Snapdragon 805 devices do - things like 4K video with stereo recording, Dual Shot, simultaneous HD video and image recording, slow motion video, and more. In addition, the xodiom is resistant towards sweat, rain, liquids, sand, and dust. The screen is covered with Gorilla Glass 3 for scratch and shatter protection. Can you handle more awesome at this point? We know you do - the xodiom has dual stereo speakers and active noise cancellation with a dedicated mic, along with Accelerometer, Gyroscope, Proximity, Compass, Barometer, Gesture, UV, Heart Rate, and SpO2 sensors.
Take a moment to breathe, because we're about to reveal this beast's shocking price tag - it's $329 for the 32GB version or $379 for the 64GB version! Both are sold exclusively in Tuxedo Black, and once again, there's no invite scheme, shady contests, dull social network marketing, or other questionable initiatives involved.
The biggest question, of course, is whether this company can really deliver. We're all probably thinking the same thing here - this thing's too good to be true! So don't mash the buy button yet, unless you're feeling really adventurous. If anything, xodiom appears to accept only wire transfers and bitcoin transactions as payment options, which have no customer protection. This is a shady practice typical of online scammers. We're not launching an investigation or anything, and we cannot say for a fact whether the company's legitimate or not. We're contacting xodiom and Qualcomm in hopes of gathering some intel.
UPDATE
: Since we reported on xodiom, the news has blown up in the technological community. Users and fellow journalists have collected these, and more pieces of evidence that strongly point towards the company being a scam. You have been warned!
1. The xodiom phone's homescreen is not an original creation. It contains icons from icon packs available on the Google Play store. It is also the same homescreen
used for this Karbonn smartphone
.
2. Richard Danis, a follower of tech journalist Erica Griffin's Google+ page,
experimented with wiring money to xodiom
. On refreshing the payment web-page, the website appears to generate random order references instead of giving out an error.
Recommended Stories