Teasers from Huawei promote 'Incredible Touch' and Force Touch for the Huawei Mate S
27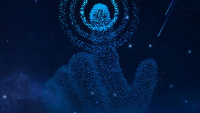 Which handset will be known forever as the first smartphone to launch with the Force Touch feature? A couple of months ago, the smart money would have gone with the
Apple iPhone 6s
and the
Apple iPhone 6s Plus
. While Apple has yet to unveil its next-generation models,
there has been talk about Force Touch being part of these two phones
going back months.
Two other phones that could be released soon, the
ZTE Axon Mini
and the
Huawei Mate S
, are also in the running. Today, Huawei released a pair of teasers for the handset. The first one promotes a feature called 'Incredible Touch.' Based on the teaser, it would appear that Mate S users will be able to open an app by drawing a letter on the screen. For example, one teaser says "
Now, camera really starts with a 'C',
" hinting that the camera app on the phone opens by writing the letter C on the display.
A second teaser from Huawei seems to show off a Force Touch feature as it displays the image of a finger presumably pressing on a touchscreen. The waves that surround the finger seem to indicate a "hard" touch is being made. On the bottom of the teaser it says IFA 2015.
Huawei is expected to unveil the Mate S in Berlin next week
, just prior to the kick off of the IFA 2015 show. One subtitle for the second teaser translates to "
Can pressing be different?
" Sounds like Force Touch to us. The feature allows the screen to differentiate between a regular tap and a harder tap. This allows users to open a feature with a regular tap, and see other options by pressing down harder on the same part of the screen.
So now we have something new thrown into the mix, 'Incredible Touch.' Thankfully, September 2nd will be here soon and Huawei will have a chance to explain everything.
source:
Weibo
via
GforGames