T-Mobile's new ad uses magenta-colored balls to show the growth of its 4G LTE network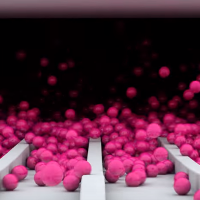 The other day, T-Mobile responded to Verizon's widely shown television commercial that uses colored balls to represent Verizon's LTE network. At first, T-Mobile responded in typical Legarian fashion by taking Big Red's ad and
turning it into a Pop-up video
, revealing information about the data used by Verizon that was not mentioned in the ad. For example, the allegedly independent survey was paid for in part by Verizon, and did not include VoLTE traffic. The latter accounts for 40% of the calls handled by T-Mobile's network.
T-Mobile also issued the #BallBusterChallenge,
which starts February 1st in Seattle
. The challenge travels across the country matching up Verizon's network with T-Mobile's pipeline in a series of challenges. Verizon subscribers willing to take the challenge can earn $100 if Big Red outperforms T-Mobile in two out of the three tests (texts, calls and data speed). If T-Mobile wins, the Verizon subscriber will have to humiliate himself by being photographed wearing a silly sign around his neck.
Now, T-Mobile has produced its own balls ad that includes "the rest of the story." Simply put, the ad notes that T-Mobile has added 4G LTE coverage for 100 million Americans over the last two years. During that time period, Verizon added coverage for 5 million Americans. "Verizon didn't tell you that, did they?" asks the voice over announcer.
According to T-Mobile, it now covers 304 million Americans with its 4G LTE signal, compared to the 308 million who are covered by Verizon's 4G LTE pipeline. The ad also mentions T-Mobile's Extended Range LTE signal, which is made up from low frequency spectrum. That allows it to travel farther and penetrate buildings better. Ironically,
T-Mobile purchased some of this spectrum from Verizon
where it was apparently just sitting inside a desk drawer, collecting dust.
For all of T-Mobile's attacks on the nation's largest carrier, Verizon has been holding strong. It
recently announced a churn rate of .96% for the fourth quarter and all of 2015
. Last year, Verizon added 4.5 million net new subscribers. T-Mobile should be announcing its Q4 and 2015 numbers sometime next month.
To check out T-Mobile's new ad, click on the video below. Or, you can catch it during today's AFC and NFC Title games.
source:
T-Mobile
via
TmoNews