T-Mobile's Magenta Friday promotion extended to Tuesday, November 22nd
7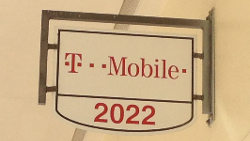 You woke up this morning thinking that something important had slipped your mind. And then it hit you. You forgot to
take advantage of T-Mobile's Magenta Friday promotion
, which expired yesterday. How are you going to explain this to the wife and kids? And just when you are about to Google the name of a divorce attorney, the most wonderful news is released. T-Mobile is extending the Magenta Friday promotion until tomorrow, November 22nd.
Now you have two extra days to take advantage of this deal, thanks to what T-Mobile calls "overwhelming demand and jam-packed stores." To refresh your memory, any new customer activating two voice lines on T-Mobile One or Simple Choice, or any existing customer with at least two voice lines on T-Mobile One or Simple Choice, can get two additional lines added for free. That is $0 for those who prefer symbols.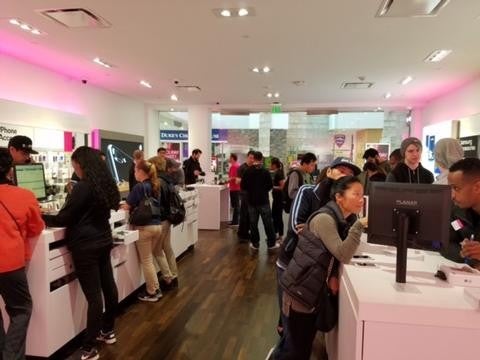 The Magenta Friday promotion brought big crowds to the carrier's physical stores
T-Mobile also took some time to update us on its previous deals. The bad news, thanks to heavy demand, is that the free
Samsung Galaxy Tab E
and
LG G Pad X
are no longer available. However, T-Mobile is giving away the
Alcatel POP 7 LTE
tablet to those customers with a T-Mobile One or Simple Choice Unlimited plan. Subscribers will be reimbursed with 24 monthly bill credits equal to the price of the slate. The only thing a customer has to eat after two-years of credits, is the sales tax.
In addition, the carrier's mobile Wi-Fi hot spot for cars, SyncUP Drive, remains free with 24 monthly bill credits on a 2GB or higher mobile data plan. Normally priced at $149.99,
this device turns your car into a rolling Wi-Fi hot spot
. The device also provides diagnostics for your automobile, and also tracks your family's fleet of cars. Heck, you can even set speeding alerts and get alerted when a family vehicle enters and leaves a certain area (better not delete that lawyer's phone number). T-Mobile tells us that the deal will not be put on back order if supplies run out. Perhaps we can rephrase that better. No rain checks with this deal! And supplies are said to be going fast.
T-Mobile is giving you two extra days to prove to your family that you're still on the ball. And if you really want to be greeted with hugs and kisses when you walk through the door at night, check out the carrier's holiday deals by clicking on this
link
.
source: T-Mobile