T-Mobile SyncUP Drive puts 4G LTE internet and smart diagnosics inside your car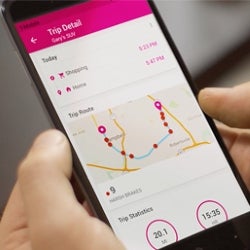 If you want your car connected to the internet but it lacks built-in Wi-Fi, T-Mobile's SyncUP Drive might be just the thing you need – unless you're after a new car, of course. The carrier offers a ZTE–Mojio made device that plugs into your car's on-board diagnostics port (it must be built after 1996, and electric, hybrid, or diesel engines aren't compatible yet) and adds smartphone-sync'd vehicle diagnostics as well as a wireless connection to T-Mobile's 4G LTE network.
The dongle lets up to five different devices connect to its Wi-Fi hotspot, while the
Motion
smartphone app is able to provide, warranty, and maintenance information, track driving habits (where and when speeding, harsh breaking, and rapid acceleration happen), monitor the vehicle's location, and issue alerts for possible issues and malfunctions.
The device will go on sale November 18, 2016 priced at $150 or free after bill credits when it's purchased with a 24-month plan with at least 2GB of data.
source:
T-Mobile
,
ZTE and Mojio