T-Mobile's CTO sees the carrier's first LTE market running in 2 to 3 weeks
9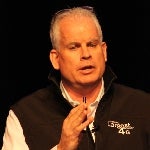 first LTE market
in just two to three weeks. The city covered by the first T-Mobile LTE signal? Las Vegas, where the announcement originated from during CES 2013. Those with a sense of the history of the nation's fourth largest carrier will remember that
Sin City was where T-Mobile first offered 3G service back in 2008
. Las Vegas also was where T-Mobile
first upgraded its 1700MHz spectrum last year
to allow unlocked Apple iPhone users on T-Mobile's network to experience 3G speeds.
T-Mobile will be the last of the four major U.S. carriers to
build out an LTE network
. Verizon has the service
available in over 400 markets
, followed by AT&T and Sprint. T-Mobile's new LTE customers should notice data speeds up to ten times faster than what they had been getting on 3G. T-Mobile will also be the recipient of LTE pipelines currently owned by MetroPCS when the
merger between the two closes later this year
.
source:
TmoNews