T-Mobile updates Galaxy Note 7 exchange process, customers get to keep all freebies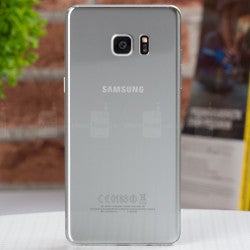 The Galaxy Note 7 has been discontinued
less than two months after it was officially unveiled. Citing customers safety, Samsung announced that all Galaxy Note 7 units, regardless of when they were purchased, will be replaced with other smartphones or owners will be given full refunds.
Since all major carriers in the United States have sold the Galaxy Note 7 in large quantities, they are now trying to convince customers to exchange their potentially dangerous phones to completely different models.
We've already reported that
Sprint confirmed it will honor the replacement of all Galaxy Note 7 units
to any other device. On top of that, the carrier will also offer customers a $25 service credit on their bill if they choose to move to a Samsung
Galaxy S7
or S7
edge
.
However, it looks like T-Mobile updated the Note 7 exchange program one day before Sprint. The carrier is urging customers to power down their Galaxy Note 7 smartphones and return them as soon as possible. Also, they will receive full refunds, which they can apply towards the purchase of any device in T-Mobile's inventory as a replacement, minus the Note 7 of course.
Moreover, the Magenta carrier announced that customers can return any accessories they purchased from T-Mobile for use with the Galaxy Note 7 and they will receive full refunds as well. Naturally, T-Mobile is waiving any restocking charges, so you won't have to worry about that.
It's also worth noting that consumers who purchased the Galaxy Note 7 during the pre-order period will be allowed to keep the free Netflix subscription and Gear Fit or SD card they received by taking advantage by the carrier's offers.
Last but not least, all customers who purchased the Samsung Galaxy Note 7 will automatically get a one-time $25 credit on their T-Mobile bill within two cycles.
In order to get rid of your exploding Galaxy Note 7 units, you should visit a T-Mobile retail store or you can call the carrier's customers care line for additional details.
Samsung Galaxy Note 7