T-Mobile to get the Lumia 710, Windows Phone made LTE handsets possible for Nokia in the US
4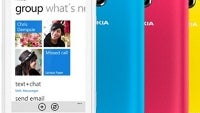 Nokia's Stephen Elop and Jo Harlow both sat down for interviews these days, and laid out the strategy going forward, including hints about how it intends to claw back the US presence.
Stephen Elop mentioned that the Nokia 800 and Nokia 710 will receive
three times the marketing budget
that was splurged before, even for the highest-end Symbian handsets. Part of the campaign will include working with carriers and their retail stores, which are the most important points in the US, and for which
it will be receiving Microsoft's backing
as well.
Nokia is perfectly capable of launching a marketing onslaught to our senses, as it has proved numerous times, even for handsets not as inspiring as the Lumia line, so we are curiously awaiting its US re-entrance, especially when it comes to carrier deals and retail stores marketing. In the words of CEO Stephen Elop:
Our intention is to come back in the United States and grow significant share in this market. Our plans are to be very competitive and to go head-on with the appropriate devices at the appropriate price points. We know we need to get volume moving and we need from that to develop economies of scale. And then as we do more and more differentiation, we expand gross margin.
Nokia's Jo Harlow also added: "
Our decision to go with Windows Phone gave us opportunities technology-wise to enter the US market with the right technologies, be it LTE or CDMA, that we would not have had with either Symbian or with MeeGo.
" It's somewhat safe to assume from her words that Nokia will be waiting for
the Tango Windows Phone update
, which will bring support for lower screen resolutions and LTE, before it unleashes a full portfolio of Windows Phones onto US carriers, at various price points.
As for the amount of apps on Windows Phone Marketplace? CEO Stephen Elop mentions that there are only a couple of hundred must-have apps that are indispensable, which the 35 000 titles in the Marketplace already include, and now Microsoft is favoring quality over quantity, with Nokia aiming to help spearhead the creation of more localized apps.
Recommended Stories