T-Mobile outspends Verizon, Sprint and AT&T on T.V. ads during July
12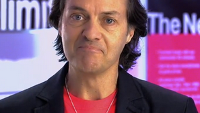 If it seemed that every ad on television last month was for T-Mobile, you weren't seeing things. A recent study found that the upstart mobile operator, which
just surpassed Sprint to become the third largest mobile carrier in the nation
, was responsible last month for 23% of the amount spent by the industry for television ads. In June, AT&T was on top as
the carrier continued to use Milana Vayntrub as sarcastic customer service rep Lily Adams
.
T-Mobile, which favors "in your face" ads with loud, often jarring music, had 12 different spots that played about 6000 times in July. With 14 spots that played 10,000 times, AT&T was second with 21.2% of July's industry ad spending. Verizon finished third, accounting for 19.8% of the amount mobile operators spent on television spots in July. In June, Big Red was also third. Sprint was fourth, responsible for 13.5% of the commercial dollars paid last month by the mobile carriers in the states. Cricket was next, accounting for 6.6% of industry ad spending in July.
Looking at the actual dollars spent, T-Mobile coughed up $42.5 million for television ads in July, followed by AT&T. The latter shelled out $38.9 million for television commercials last month. $36.3 million was spent by Verizon in July, while Sprint paid $24.8 million. Overall, the industry spent $183.4 million on TV advertising in July, down $450,000 sequentially from the $183.85 million spent by the industry in June.
Verizon wrote a $21.4 million check to make sure the airwaves were blanketed last month by its geese ad (which we've embedded for your pleasure, below). The amount of money spent by Verizon to broadcast that ad was the most laid out by a mobile carrier for one particular commercial last month.
source:
FierceWireless