How many different ways can you say "Zero?"; new AT&T ad for the Apple iPhone 6 will tell you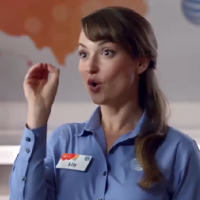 Oh, those AT&T ads are getting wittier. Take the one that is running in rotation now, featuring $0 down pricing on the
Apple iPhone 6
for the AT&T Next program. If you watched any NFL action at all this past weekend, or viewed your favorite Prime Time show during the week, you have seen this ad, which features fictional AT&T store manager Lily Adams (portrayed by the scene-stealing Milana Vayntrub).
Lily tells a couple who walked into the store, that they can get the new iPhone 6 for $0 down. "
Zilch
," says Adams. "
Small potatoes
," interjects the husband. "
No potatoes
," retorts Lily. Other terms for zero are bandied about, like Diddly Squat and Goose egg. Then the wife gets involved. She misses with "
Zizzeroni
," (a made up word) and "
Zamboni
," the machine that resurfaces the ice at hockey games. Finally, the husband just grabs the wife and asks to be hooked up.
If you have yet to grab a gander of this hilarious, fast-paced spot, and would like to take a peak, all you need to do is click on the video below. And that also applies to those who have already viewed the ad, but want to see it again. The 16GB Apple iPhone 6 is $0 down, and $21.67 a month for 30 months, at AT&T.
source:
NewTVads