T-Mobile now number one in U.S. prepaid market; Legere aims at passing Sprint overall by end of 2014
17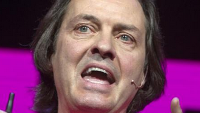 T-Mobile announced today, that it is now the largest provider of prepaid wireless service in the U.S. With 15.64 million prepaid subscribers, T-Mobile edges out Sprint (15.19 million prepaid customers), AT&T (11.34 million prepaid accounts) and Verizon (6.04 million pre-paid subscribers). This is opposite the order of overall subscription numbers in the states, where Verizon is the largest of the major U.S. mobile operators, followed by AT&T, Sprint and T-Mobile.
But T-Mobile CEO John Legere is making a bold prediction. The brash, outspoken executive is predicting that before this year is out, T-Mobile will overtake Sprint in overall subscribers. Legere has turned T-Mobile from an also-ran into the most dynamic and innovative U.S. carrier. Recently, the operator offered
a free one week test drive of its service
, using the
Apple iPhone 5s
.
Last year, T-Mobile purchased pre-paid carrier MetroPCS. Thanks to the acquisition, Metro has tripled its footprint to 45 major markets and 10,000 stores. With
MetroPCS
customers migrating to T-Mobile's 4G LTE network
, the pre-paid carrier now has over 10 million customers and is adding one every 27 seconds.
T-Mobile is more than just flash and hype. It does own the fastest network in the states
, and all of this momentum is making executives at the other carriers wonder if perhaps they are too buttoned down. T-Mobile's Legere is known for his long hair, pink T-Mobile t-shirts, and sneakers. He presents himself as a champion of the consumer. If you've ever had a chance to rifle through his Twitter feed, you see that this is indeed a man who loves to communicate with people, customers and non-customers, supporters and nay-sayers alike. And perhaps that is what is truly going on here. Not too many CEO's will try to answer every tweet like Legere does. By staying close to the consumer, the executive has his finger on their pulse, and knows what they want.
The good news just keeps on coming for T-Mobile. The momentum we're seeing with our T-Mobile and MetroPCS brands is outstanding, and the fact that we've blown by everyone to take the No.1 spot in prepaid is icing on the cake. As a matter of fact, I'm going on record—I predict we'll overtake Sprint in total customers by the end of this year. Not someday. Not next year. This year. Americans are voting with their feet, and they're joining this Un-carrier revolution by the millions."-John Legere, CEO, T-Mobile
Sprint is no doubt feeling the pressure. Today, it let go of CEO Dan Hesse. The 60 year-old was piloting Sprint since December 2007. He was
replaced by Brightstar founder Marcelo Claure
, 43. The latter has his work cut out for him, as he tries to stop T-Mobile. That won't be easy. The carrier has momentum on its side, and a popular executive who knows how to win over the consumer. As Legere himself says, "
Our 4G LTE network is still the fastest in the nation, and both T-Mobile and MetroPCS brands have the highest J.D. Power scores for customer care in our respective categories. Oh and today we overtook Sprint in total market cap. Any questions?
"
source:
T-Mobile