Test Drive the T-Mobile network free for one week, using an Apple iPhone 5s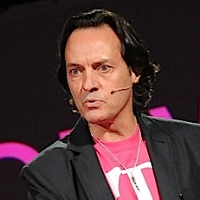 T-Mobile CEO John Legere wants you to cheat on your wireless operator. Tonight, the enigmatic executive announced T-Mobile's UN-Carrier 5.0. The new initiative will allow consumers to test drive the T-Mobile network, free for one week. Those who sign up will receive an
Apple iPhone 5s
to use with the test. After one week, the consumer will decide whether or not to continue with the carrier. If he decides not to continue, the consumer returns the iPhone 5s to a nearby T-Mobile location, owing nothing (if the phone is returned in proper condition).
To take advantage of T-Mobile's Test Drive, you will need to order the iPhone 5s by mail. You need to be at least 18 years old to qualify for the test. If the phone is returned with a cracked screen, water damage or an active Find My iPhone feature, you will be charged $100 for a damage fee. And if you do decide to test drive the network, a hold for $699.99 plus taxes will be placed on your credit card. If the phone is not returned in a timely manner, your card will be charged that amount.
Each person will be allowed one Test Drive, with one trial allowed per credit card and billing address. This is the perfect way for T-Mobile to try to get customers of Verizon, Sprint and AT&T to try the carrier. Legere, of course, is hoping that the T-Mobile network proves itself enough in one week, that those testing the pipeline, decide to switch.
source:
T-Mobile