Analyst: T-Mobile remains the fastest growing mobile carrier in the U.S.
38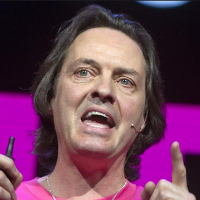 Is T-Mobile still the tail wagging the dog in the U.S. wireless industry? According to John Hodulik, an analyst with UBS, the nation's fourth largest carrier will remain its fastest growing after reporting Q2 numbers. Hodulik expects T-Mobile to report a 7% gain in service-revenue. He sees a slow down in subscriber growth, but still expects a "solid" gain in that department.
You can't expect T-Mobile to continue showing strong subscriber growth. After all, led by its Un-carrier initiatives, it added 1.32 million post-paid new subscribers in the first quarter. It was the best quarter ever for the carrier.
AT&T was next with 625,000 post-paid additions
during Q1. In April, T-Mobile revised its full-year estimate of new post-paid subscribers to a range of 2.8 million to 3.3 million, from a previous estimate of 2 million to 3 million.
While T-Mobile will be releasing its second quarter numbers at the end of this month, Verizon and AT&T have already announced their second quarter post-paid figures. Big Red added
1.4
million new subscribers, up from the 941,000 it brought aboard last year. AT&T added 800,000, up from last year's 551,000.
"We expect T-Mobile to emerge as the fastest-growing wireless company in the U.S., with 7% service-revenue growth as subscriber adds slow but remain solid."-John Hodulik. analyst, UBS
The wild card here is Sprint's rumored acquisition of T-Mobile. German telecom Deutsche Telekom owns 67% of T-Mobile, and SoftBank is looking to purchase more than 50% of the carrier's shares. Everyone involved in the deal says that having Sprint buy T-Mobile is the only way to prevent Verizon and AT&T from growing too big without competition. Even though
T-Mobile's CEO John Legere is expected to run the combined company
, he might not have the autonomy from a combined board that he is allowed at T-Mobile. That could slow down the pro-consumer changes that have been at the core of T-Mobile's growth.
source:
IBD
via
TmoNews