T-Mobile first, AT&T second in purchase experience, as phone and plan prices go way up
2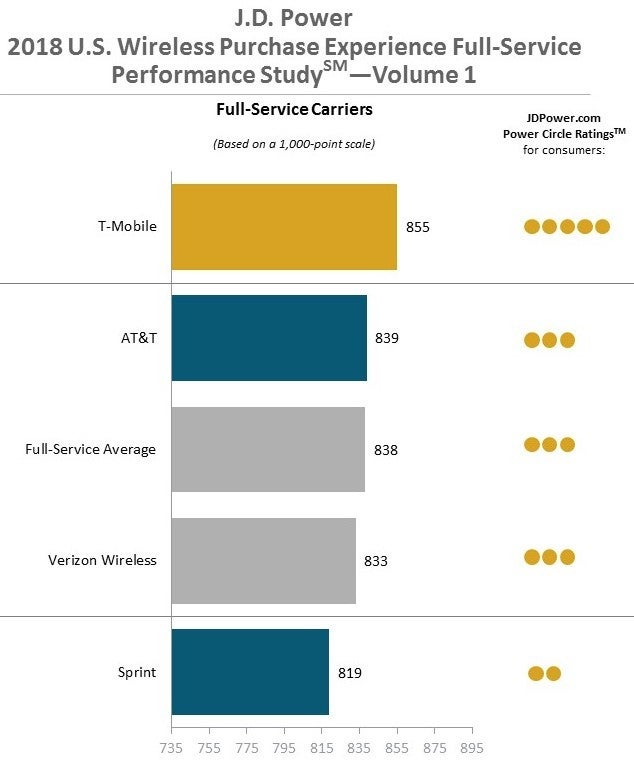 The latest survey of 13,000 carrier customers by renowned research firm J.D. Power shows one clear trend in 2017 - users are increasingly going full circle with their smartphone purchases, buying them from their current phones. The reason they don't bother with carrier shops, besides the pushy rep experience, is that on average it takes them just 10.6 minutes to complete a handset purchase from their own phone or tablet, against almost 14 minutes in the store.
J.D. Power's survey also acknowledged what is already blatantly obvious - that in 2017 smartphone prices rose to
the most expensive on record
, as wireless customer paid on average $364 for their phones bought in the last quarter, compared to $308 in Q1 2017. That's a whopping 15% increase in just a few months, and we have $900+ handsets like the
iPhone X
,
Note 8
, or
Pixel 2 XL
to blame for the ASP runup.
To add insult to injury, the average monthly bill went up to $157 now, compared to $149 in early 2017, as discount carriers like T-Mobile or Sprint, are increasingly
cutting down on subsidies
and promotions. When asked about their purchasing experience with the big four US carriers, though, the 13,000 respondents still gave the first place to T-Mobile, followed by AT&T, Verizon and Sprint. Thus, while T-Mobile's plan prices might be getting
on par with Verizon's
, it still manages to carry the aura of the people's carrier in customer service. Thanks, Mr
Legere
.
T-Mobile ranks highest in overall satisfaction among wireless full-service carriers, with a score of 855. MetroPCS ranks highest among non-contract full-service carriers, with a score of 858. Consumer Cellular ranks highest among wireless non-contract carriers in the value segment with a score of 866.