T-Mobile Samsung Galaxy S5 allegedly catches on fire; check out the evidence
49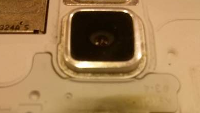 A Reddit poster using the name Jjhend has found himself unable to use a
Samsung Galaxy S5
that he still owes $400 to T-Mobile for. The unfortunate incident took place the other day when Jjhend went out for a quick errand to buy some groceries. He left his Samsung Galaxy S5 on his desk when he went out. When he returned, the device was smoking and his house smelled like an electrical fire.
In panic mode, Jjhend poured a glass of water on the fire, which is the worst thing to add to a fire started by a lithium cell. Baking soda or a class D type fire extinguisher is usually recommended. The usual suspects, like a third party battery or charger, were not involved. And the blinds in the house were shut, eliminating the heat from the sun as a possible cause of the fire.
Jjhend did not have a warranty on the phone, which isn't all paid for as we previously mentioned. One question that is bound to come up in any investigation is one of timing. Most people bring their handsets with them whenever and wherever they go. That is the point of owning a mobile communications device. Why pick this particular time to leave it at home?
Thanks for the tip!
source:
Reddit
via
SamsungRumors