T-Mobile CEO happy with Windows Phone and vice versa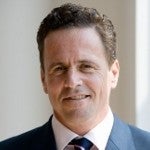 It's a lovefest between Microsoft and T-Mobile. The CEO of the latter, Philipp Humm, told the
Seattle Times
in an interview that the carrier is "
quite pleased
" with Windows Phone and believes that
Microsoft feels likewise about T-Mobile
. The nation's fourth largest carrier is Microsoft's second largest purveyor of Windows Phone models, starting all the way back with the HTC HD7 and the Dell Venue Pro. The current top Windows Phone model for T-Mobile is the Nokia Lumia 710, a non-flagship model that still reaps some of the rewards from all of the money that AT&T and Nokia have been spending to promote the flagship Nokia Lumia 900.
For example, the Nokia Lumia 710 is the fourth top selling handset at T-Mobile where it can exclusively be found, and is number six at Amazon. Back at MWC, Nokia CEO Stephen Elop said that sales of the device were "
exceeding expectations
." Another Windows Phone exclusive at T-Mobile is the HTC Radar which is the nineteenth top selling handset for T-Mobile, and number seven (just behind the Nokia Lumia 710) at Amazon.
T-Mobile's Humm also told the
Seattle Times
that
while the carrier is laying off 900 positions, it is adding 550
and is also creating 1,000 business to business jobs. That program is expected to take two years to complete as T-Mobile seeks to extend the current 5% market share it currently owns in the B2B market. Humm discussed the
carrier's lack of the Apple iPhone on its roster
, calling it a "
good and important smartphone,
" and says that the big question is whether to offer the iPhone with a subsidy like the other carriers, or if it is better to just allow T-Mobile customers to bring the Apple iPhone with them and use T-Mobile's pipeline. Humm added that 45% of the mobile operator's growth is coming from unsubsidized rate plans and
the carrier has been vocal about trying to get Americans off the current process
that has the operator's subsidize the price of a new phone in exchange for a signed 2-year contract.
The T-Mobile executive even mentioned
the change that television viewers have seen in the company's advertising icon, Carly
. She has transformed from a polka-dot dress wearing soft-spoken girl next-door to a leather clad, motorcycle-riding heavy metal 'biker chick'. Humm summed up the change by saying that T-Mobile is trying to go from being known for its affordable pricing to being known for its cutting
edge
-technology AND affordable pricing.
source:
SeattleTimes
via
WPCentral