T-Mobile executive: Get rid of subsidies on new phones
42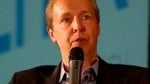 You know how you only paid $199.99 or $299.99 for that great smartphone in your hand? If it were up to T-Mobile's CMO, you would be paying the full retail price for the device. Cole Brodman, speaking at the
GeekWire Summit
said that
carrier subsidies on new handsets are ruining the industry
. The subsidies prevent OEMs and carrier from playing on a level playing field, according to Brodman, and it also cheapens the phones themselves by making them a disposable item.
During his talk, Brodman said that he would love to get rid of subsidies. When Swype CEO Mike McSherry reminded Brodman that he did have the power at T-Mobile to kill the program, Brodman reminded the audience that T-Mobile is just one of four major U.S. carriers and that it would
be very hard for T-Mobile to make this move alone
. The executive said that customers always go for the discounted phone over a lower priced rate plan or a bundled rate plan. He noted that T-Mobile had experimented with this more than any other carrier in the States.
Brodman was asked if the nation's fourth largest carrier could compete without offering the Apple iPhone. The exec responded by saying that T-Mobile offers a great lineup of Android, BlackBerry and Windows Phone devices and that many of them do things that rival the iPhone whether it is the "app experiences, network experiences or the devices themselves. In many cases, he says, some of the phones on T-Mobile's lineup
do things better than Apple's smartphone
. The CMO did add that he didn't believe it was healthy for the industry to have one OS dominating. He said it would behoove everyone to watch Windows Phone to see if the developers will start writing for the platform. A strong Windows Phone presence would help the balance in the industry according to Brodman.
Check out the CMO's comments by clicking on the video below.
source:
GeekWire
via
TmoNews
Recommended Stories