Storm 2 to hit land in September carrying 5MP camera and featuring easier typing?
19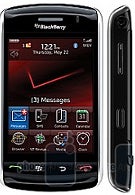 The more times a particular report is heard, the better the chances it will come true. Fans of the BlackBerry Storm are hoping that this is correct as another report, this time from someone SlashGear says is close to the issue, says to expect a sequel to the first touchscreen BlackBerry this September. Along with improved typing functions on the screen, the Storm 2 is expected to have an improved 5MP camera and upgraded display. An earlier
story we printed
about the follow-up to the device stated the new typing system would be called 'TruePress' as opposed to the current 'SureType' and that the name of the phone was undecided on. Just yesterday, we
reported
that RIM co-CEO Jim Balsillie confirmed the next generation touchscreen BlackBerry was being planned.
Besides better typing function and an improved camera, current Storm owners and analysts have been predicting that RIM would be putting a Wi-Fi radio into the next version of the handset and SlashGear's source says to expect Wi-Fi along with a more pro-consumer unit. While the current model of the phone has had lukewarm reviews at best, it has been selling extremely well and according to a
recent report
by NPD, the phone was the third best selling smartphone in the U.S. during the first quarter of this year, trailing only its stablemate BlackBerry Curve 83XX and the Apple iPhone.
BlackBerry Storm 9530 Specifications
|
Review
source:
SlashGear