BlackBerry Curve overtakes iPhone to become top selling U.S. smartphone in NPD rankings
5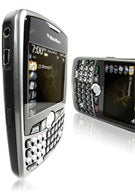 The Curve model 83XX has overtaken Apple's iPhone to become the first quarter's top selling smartphone in the U.S. according to wireless market researcher NPD. This is thanks the fact that each of the top four carrier's have at least one Curve model in their line-up and to Verizon's "Buy One Get One Free" promotion for BlackBerry phones. With such a strong three month period, RIM accounted for nearly 1 out of every 2 smartphones sold from January to the end of March and as a result, BlackBerry's market share rose 15% while Apple and Palm's share each declined 10%.
The top five models in the smartphone niche include all BlackBerry Curve models (83XX) leading the way, followed by the Apple iPhone 3G. Third place goes to the touchscreen BlackBerry Storm followed by the BlackBerry Pearl (all models except for flip) and T-Mobile's G1.
With some strong new smartphone models coming to the States, including some BlackBerry models and the second Android device, the standings could be in for some changes in the next two to three quarters.
source:
NPD
via
EngadgetMobile