Research firm says Apple delivered fewer iPhone units than expected in Q1
12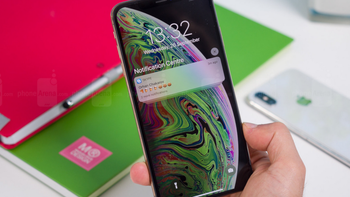 During Apple's fiscal first quarter of 2019 (which covered the three month period from October through December), the company reported that revenue from iPhone sales declined 15% year-over-year. Since Apple no longer reports the number of units it sells during a quarter, all we know is that sales of the handset brought in $51.9 billion during the holiday quarter. That was down from the $59.8 billion that Apple collected during the 2017 holiday quarter.

According to SeekingAlpha
, stock researcher OTR Global released a report estimating that iPhone shipments during the first calendar quarter (Apple's fiscal second quarter) fell into a range between 37 million units and 42 million units. That was a decline from the firm's previous forecast, made in January, that called for Apple to deliver 40 million to 45 million iPhones from January through March. OTR Global says that weak demand for the 2018 iPhone models (
iPhone XS
,
iPhone XS Max
, and
iPhone XR
) forced it to lower its estimate. For the second calendar quarter (Apple's fiscal third quarter of 2019) that includes April through June, the stock researcher expects 28 million to 33 million iPhone units to be shipped. That would be a year-over-year decline of 21% to 24%.
The decline in iPhone shipments hasn't been a total surprise to Apple. A couple of years ago the company vowed to double its services revenue from the $25 billion it took in during 2016, to $50 billion by 2020. The unit, which is the second largest and most profitable business run by Apple, sells services and subscriptions for the nearly 1 billion iPhones in use around the world. The unit includes iTunes, Apple Music, Apple News+, Apple TV+, App Store, Arcade (starting this fall), AppleCare and more.
Apple assures itself of a long-term supply of Qualcomm modem chips for the iPhone

Returning to the iPhone,
yesterday Apple cleared up a potential issue by reaching a settlement with Qualcomm
, ending all legal battles with the chip maker. Not sure whether Intel could deliver its 5G modem chip in time for the launch of a 5G iPhone in 2020, Apple had looked at other chip companies including Samsung and MediaTek. But by making the deal with Qualcomm, which will cost Apple an undisclosed amount of cash, the company also locked in a multi-year supply of modem chips (including 5G modem chips, we assume). The news was well received by many iPhone users who feel that Qualcomm's modem chips are far superior to Intel's. In fact, after news of the settlement broke,
Intel announced that it would immediately stop developing 5G modem chips
. The licensing deal with Qualcomm that was announced yesterday runs for six-years with an option for another two-years. Terms of the chipset supply agreement were unannounced.
The 2019 iPhones should be announced in September. The latest rumors call for a 6.5-inch iPhone XI Max, a 6.1-inch iPhone XI and a sequel to the
iPhone XR
. There are conflicting reports about whether all three models will have OLED screens, or if the iPhone XR (2019) will continue to sport an LCD display.