Stock Android version of the Samsung Galaxy S4 is an adjusted T-Mobile model?
24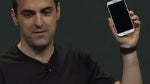 According to a published report, the stock Android version of the
Samsung Galaxy S4
that
was displayed this past week at Google I/O
, is actually a modified
T-Mobile version
of the phone (SGH-M919). Using FCC data for the model, and knowing that it offers AT&T and T-Mobile LTE and WCDMA connectivity, the T-Mobile variant of the phone is the only one that fits. The fact that Google is apparently choosing to call the phone's stock Android modification the "Nexus user experience" rather than the "Google Experience" as it once called the
Motorola DROID
for example, is indicative of Google's intention to deliver all updates directly.
The SGH-M919 supports LTE bands 2,4,5 and 17 while also supporting bands 2,4 and 5 of WCDMA. It is the exact same hardware that AT&T uses for its variant of the Samsung Galaxy S4 minus the RAT (Radio Access Technology) locking that the carrier installs to lock out WCDMA Band 4. T-Mobile customers need to have a connection to this Band so they can have an easier time connecting to their network. Because AT&T uses RAT on its phone, we can eliminate that variant as the "Nexus user experience" model.
So this means that only the T-Mobile version of the device has all the pieces required to be the "Nexus user experience" version of the Samsung Galaxy S4 that will be available
from the Google Play Store for $649
. It has the correct connectivity match and it also has the Qualcomm Snapdragon 600 under the hood. The reasons to buy the phone are clear. No TouchWiz, an unlocked bootloader, and the most important of all, prompt system updates. If enough of these phones get sold, we are certain to see some major improvements in the monthly Android distribution stats released by Google, with more users running the latest version of the OS.
source:
AnandTech
via
AndroidAuthoity