Samsung Galaxy S4 with stock Android is real: Nexus experience coming on June 26
99+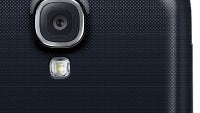 The
Samsung Galaxy S4 'developer edition'
is real, folks! Google has just announced the
Galaxy S4 with stock Android 4.2 Jelly Bean
and none of that TouchWiz wizardry. Pure Android, just as so many people like it.
The Galaxy S4 with stock Android will land on the Google Play store on June 26th for an off contract price of $649.
The S4 with stock Android will support 4G LTE and you'd be able to use it on the U.S. GSM carriers like AT&T and T-Mobile. It will have 16GB of internal storage, come with a fully unlocked bootloader and you won't need to wait for system updates from carriers. Freedom, a lot of us wished for it, and now we have it!
Recommended Stories