Starting June 1st, all new watchOS 2 apps must be native to the platform
13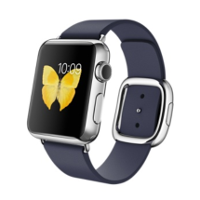 Apple on Friday posted a note on its Developer website about a new requirement starting on June 1st. From that date on, new watchOS apps submitted to the app store must be native apps built using watchOS 2 SDK or later. That means that these new apps for Apple Watch must be able to run on the timepiece without having an Apple iPhone nearby.
When the Apple Watch first launched, most apps had to be stored on the iPhone handset that was paired with the timepiece. When the Apple Watch user wanted to run them, the apps were streamed to the timepiece. With the release of watchOS 2
came support for native apps
. Apps that are native to the platform open quicker and run smoother on the watch.
While it might not be ready for the Apple Watch 2, eventually the timepiece will come with its own eSIM allowing it to run totally free without being paired to an iPhone. That would allow users to make/take calls directly from their wrists. Forcing all future watchOS apps to be native to the platform is possibly the first step in that direction.

Apple tells developers of apps for watchOS 2 that all such apps must be native after June 1st
source:
Apple
via
MacRumors