Square Enix's cult classic Valkyrie Profile: Lenneth out now on Android and iOS
4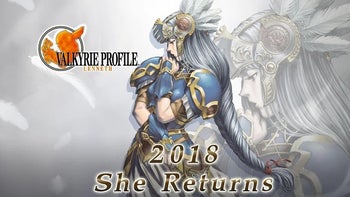 The original PlayStation had quite a few major titles at launch that became cult classics later on. Square Enix's Valkyrie Profile: Lenneth is one of the games launched back in 1999 that's worthy of a remake.
However, the Japanese publisher has another type of surprise for fans of the cult classic in the form of a mobile release. Valkyrie Profile: Lenneth is now available on both the Android and iOS platforms, but it doesn't come for free.
If you want to play Valkyrie Profile: Lenneth on your mobile device, you'll have to come up with $16, not to mention that the game is heavy on in-app purchases. According to Square Enix, the mobile version of Valkyrie Profile: Lenneth has a few added features over the PlayStation game, such as booster options available through in-app purchases, the option to save anywhere and autosave functions, as well as an auto-battle option for combat.
On top of that, the developers have included a new UI and controls specially designed for smartphone touchscreens. Naturally, the graphics have been reworked for smartphones, so Valkyrie Profile: Lenneth is not just a simple port from the console version.
Last but not least, Square Enix says Valkyrie Profile: Lenneth benefits from "partial support for game controllers," which probably means not all controllers are compatible with the game.