Sprint responds to Verizon's price hike by tweeting a funny comic strip
13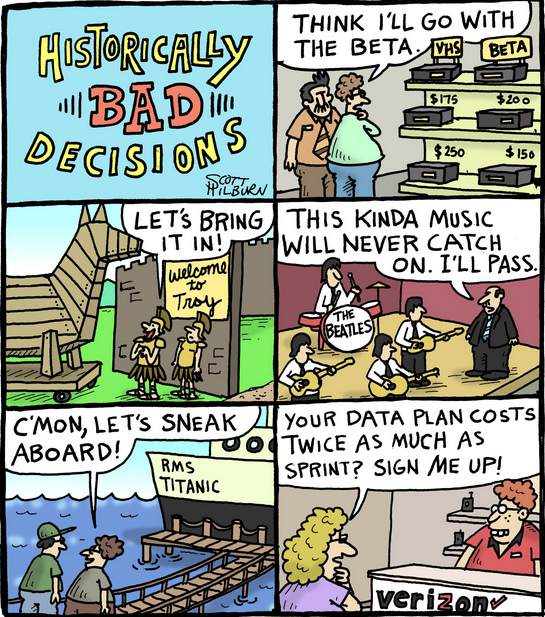 Comic makes fun of Verizon's higher rates
Yesterday, Verizon raised the price and the data allowance offered with each tier of service. At the same time,
it revamped the "My Verizon" app to make it more useful to customers
; and instead of charging overages on accounts that consume more data than paid for, Verizon will give its customers the option to have their data throttled instead.
Today, Sprint responded to the moves made by its rival by tweeting a comic strip using CEO Marcelo Claure's Twitter account. It includes cartoon depictions of "Historically Bad Decisions." For example, it shows a couple ready to sneak on to the Titanic, a music promoter turning down The Beatles, and a wireless customer signing up with Verizon despite the extra expense.
Claure wasn't done. Returning to his Twitter account, the executive sent out another tweet about Verizon's "great" strategy for raising rates. Verizon's three-pronged plan, according to Claure, included "Step1: Raise prices, Step2: Tell them you aren't raising prices, Step3: Tell them to be thankful."
Back in November, Sprint launched a plan that offers Verizon, AT&T and T-Mobile customers
comparable service at half of what they are paying their current carrier
. The 50% off rate expires in 2018, and those interested will have to port over their phone number. Sprint's current ads make note of a Nielsen study released in January which concluded that the performance of the Sprint network came within 1% of the results tallied by Verizon and AT&T.
source:
@marceloclaure
via
BizJournals