Sprint holding "industry first" event today, live coverage starts at 6pm EST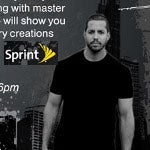 As many of you know Sprint is the onlycarrier which hasn't yet announced a superphone to match the Atrix-esand BIONICs of today, but this might soon change at what might turnout to be a magical evening tonight. Sprint will bring illusionistDavid Blaine on stage to demonstrate yet another "industry first"and all clues point to the LG Optimus 3D, the first dual-core handsetusing glasses-free 3D technology. But to be sure you don't fall intoany trickery, we'll be there live blogging at the event so make sureto check us out at 6pm EST/3pm PST.
We can think of no other featuresexcept for the LG Optimus 3D that will be truly innovative for theindustry, but a combined phone/tethering plan would also fulfill thedreams of many. Rumors about a Sprint branded iPhone 4 have taken arest recently, but nevertheless they sound exciting. Whatever it is –it's just a couple of hours away.