Sprint finally brings out webOS 1.4.5 with battery fix but no Flash
1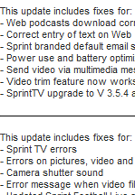 "Better late than never" goes the old saying, and for owners of the Palm Pre and Palm Pixi on Sprint, this is very true. Expected back in early July, webOS
1.4
.5 is just now slowly making its way to the pair of Sprint devices. The carrier has posted a list of what changes the new build will bring, and perhaps the most important is one called "battery optimization" which apparently will extend the life of a phone's power cell. The new build of webOS will also allow users to download podcasts over the web correctly and upgrades Sprint TV to V 3.
5.4
, which features parental control. A complete changelog can be found at the source link.
One feature that webOS users were hoping for with the upgrade did not come. Those who were praying that the new OS build would include the software needed to run Flash will just have to hope that it will eventually come to their webOS unit. Earlier, it was discovered that clicking on get.adobe.com/flashplayer from a webOS device brought up a strange app in Palm's Web App Feed called "Conversion". Some had taken it as a sign that the 1.4.5 download would include everything necessary to run Adobe's Flash, but this was not to be the case. An app in Palm's beta feed named "FlashPlayer Beta" also got everyone excited for a brief moment until Palm revealed that what was found was a earlier beta that was not pulled and is not functional on webOS 1.4.x. The manufacturer says it has pushed through an update to have it removed from the feeds.
Palm Pre Specifications
|
Review
source: Sprint
(Pre)
,
(Pixi)
,
PreCentral