Sprint announces the HTC EVO 4G LTE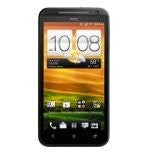 Sprint has announced a new LTE handset - the HTC EVO 4G LTE! Being the new flagship handset in the carrier's line-up, the EVO 4G LTE is well-equipped both hardware and software-wise to rival the other high-end offerings on the market. As far as specs go, the handset is extremely similar to the One X, which we reviewed recently. However, on the outside the EVO 4G LTE is very different.

Actually, the handset has gotten an all-new design. It's made from aluminum and has a special anodized black finish. Of course, since this is a true EVO 4G successor, the EVO 4G LTE also has a contrasting red kickstand on its back side! In terms of overall shape and looks, the EVO 4G LTE is much closer to the One S.
On its front side, the EVO 4G LTE sports a sizable 4.7" S-LCD 2 720p display protected by Corning's Gorilla Glass. Just as we thought, the processor of the phone will be a 1.5GHz dual-core Qualcomm Snapdragon S4, not a quad-core Tegra 3. That is because NVIDIA's Tegra 3 can't work with LTE right now.
The 8MP camera of Sprint's new marvel will feature the same goodies that we saw in the One X, including the dedicated ImageChip and super-fast start-up and focus times.
You didn't think that HTC will launch a new handset without Beats, did you? Naturally, the EVO 4G LTE takes advantage of the Beats Audio enhancements, which will aim to improve the audio coming from the handset, regardless of whether you are playing music through the stock music player or you're just watching a video. Since Sprint and HTC haven't announced it specifically, we're assuming that the EVO 4G LTE will not come bundled with Beats earphones.
When it comes to the software experience with the phone, users will be delighted to know that it runs the latest Android version - Ice Cream Sandwich. However, HTC's signature Sense UI is also here, in its fourth iteration. You can read more about Sense 4 in our overview here.
Sprint's HTC EVO 4G LTE is also the carrier's first HD voice handset. That's pretty cool, although a nationwide HD voice network by Sprint isn't expected until late 2012. We're really looking forward to checking this feature out. During the presentation, it was said that you could hear a needle drop one the other end of the line, while conversing. This does seem like a slight exaggeration to us, but who knows...
Users will be able to pre-order the HTC EVO 4G LTE starting May 7 (it should launch sometime in Q2), at a reasonable price of $199.99 with a two-year contract. For those who are wondering, mobile data on LTE is staying unlimited, at least for the time being.
HTC EVO 4G LTE Images