Snapdragon 808 chosen for the LG G4 before the 810 issues, claims Qualcomm
38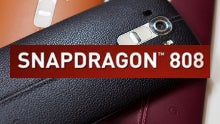 Samsung might have been wise to go with its own 14nm Exynos for the
Galaxy S6
not only for business reasons - using its own superior SoC - but also because of reports that the first batches of Qualcomm's Snapdragon 810 could not keep their cool the way the TSMC foundry was producing them. The launch of the Galaxy S6 with Samsung's own application processor has reportedly given Qualcomm food for thought about cutting the patent royalties it demands from phone makers, and Samsung in particular, as it doesn't want to nix the relationship it has with the world's largest cell phone maker.
When it comes to LG, though, it was first out of the gate with Qualcomm's first Snapdragon 810 batch inside - with the
G Flex 2
- and that's where
the reports of the 810's aggressive thermal throttling
actually started. Now, with the announcement of the
G4
, which sports a chipset that sits a tad below 810 in Qualcomm's portfolio, the chip maker rushed to an explanation.
The Snapdragon 808 chipset, it seems, was chosen for the G4 long before the 810 production issues took centerstage, claims Qualcomm. As per Tim McDonough, Qualcomm's head of marketing: "
The decisions on which chipsets to put on which handsets come from over a year ago
," so LG hasn't had second thoughts about Snapdragon 810, it seems. There you have it - the reason why the LG G4 doesn't have DDR4 RAM support and two more cores, like the G Flex 2, which LG obviously wanted to keep as its flagship in the silicon department for now.