Snapdragon 620 takes on the Snapdragon 615 in Qualcomm's latest heat test
13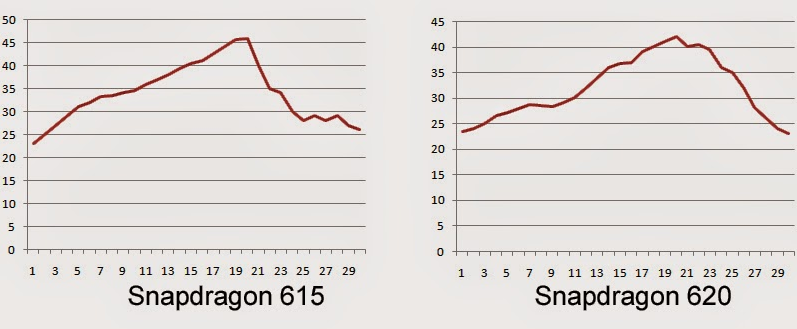 The unreleased Snapdragon 620 runs cooler than the Snapdragon 615 according to a Qualcomm test
It was just Saturday night when we passed along a test conduced by Qualcomm that showed how
the unreleased Snapdragon 815 runs cooler than the feverish Snapdragon 810 and the Snapdragon 801
. Now, Qualcomm has apparently heat-tested the unreleased Snapdragon 620 and the currently available Snapdragon 615.
Unlike the previous tests, which used the game Asphalt 8 to stress the chips, Qualcomm turned to Mortal Combat 5. That is a surprising choice since it is more demanding and the chips being tested are Qualcomm's mid-range chipsets. Perhaps Qualcomm should have used Mortal Combat 5 for the tests involving its flagship chips.
Nonetheless, the game was played on a device with a 4.7-inch IPS display with a 720 x 1280 resolution, packing 1.5GB of RAM and no cellular antenna or radio. Each chipset played Mortal Combat 5 for 20 minutes before the thermometer was employed. The results? The Snapdragon 620 hit 107.6 fahrenheit, cooler than the 114.8 degrees reached by the Snapdragon 615. On a device with a cellular antenna and radio, the temps will be a bit higher.
According to the tests, the Snapdragon 620 cools down constantly when game time is over. The Snapdragon 615 got cooler for the first 15 minutes of rest before the temperature started acting a bit strange. The behavior of the latter chip was apparently something that Qualcomm was able to fix with its next-gen mid-range chipset.
source:
STJSGadgets