Snapchat valued at $10 billion after latest financing round
10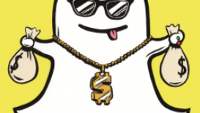 According to an SEC Form D that was filed in 2014, messaging app Snapchat recently raised $485 million. More importantly, this latest round of financing, led by Venture Capital firm Kleiner Perkins, was accomplished at a cool $10 billion valuation for the company. 23 investors took part in the equity sale. Snapchat is known best for its self destructing messages, which disappear ten seconds after being read.
To show you how successful businessmen get rich, it was just in June of 2013 when
the company raised $60 million at a valuation of $800 million
. Just five months later, offers of $3 billion and $4 billion from
Facebook
and
Google
respectively, were turned down just two days apart. By this August,
Snapchat was said to be valued at $10 billion
. The company originally was seeking to raise $900 million with this latest financing round, but that was considered too ambitious a target and was cut in half.
Snapchat is believed to be spending $30 million a year with $15 million of that going to Google for hosting its photos. The company is rumored to be paying $3 million a month in legal fees (ouch!). Revenue does come in from the sponsored "
Our Stories
" and from Amazon's disappearing deals to members.
Snapchat is said to currently have close to 200 million average users each month, double the amount it was believed to have in August.

Snapchat raises over $485 million with its latest funding round
source:
SEC
via
TechCrunch