Snapchat valuation is now at $10 billion
11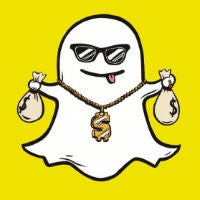 You may remember, as of June last year, Snapchat was valued at
$800 million
. By later in 2013, Snapchat was valued at around $2 billion, and was fielding acquisition offers from both Google and Facebook worth a reported
$4 billion
and
$3 billion in cash
, respectively. There was also chatter that Snapchat was crazy to not sell. It looks like founder Evan Spiegel made the right call, because now his company is valuated at $10 billion.
The increase comes because of reports that venture capital firm Kleiner Perkins Caufield & Byers has agreed to invest $20 million in Snapchat, and because another strategic investor has agreed to invest an undisclosed amount. A Snapchat spokeswoman brushed off the news, saying, "The valuation of our business and our capital requirements are the least exciting aspects of supporting the Snapchat community. We have no further comment at this time."
And, Snapchat may be smart to brush off talk about its valuation, because those talks inevitably lead right back to the fact that, while Snapchat's valuation is growing quickly, it is doing so in spite of Snapchat's lack of a business plan. The company still has no plans to begin generating revenue, but venture capitalists are more than eager to invest.