Snapchat CEO Spiegel: First two ads were effective
2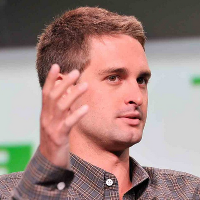 With the value of Snapchat
said to be as high as $10 billion
, the company needs to monetize the app. After all, self-destructing messages alone aren't going to bring home the bacon. And the way that most apps prove their worth is through advertisements. To this end, Snapchat has started running a couple of ads. Both were movie trailers, with the first one for "
Ouija
" and the second for "
Dumb and Dumber To
."
Snapchat CEO Evan Spiegel said that the response to the ads was very effective, with the second spot outperforming the first one. The first ad was seen by millions, according to Doug Neil, Universal's executive vice president for digital marketing. The Universal executive added that the numbers for the second ad were "
very encouraging
."
Spiegel said that many potential advertisers wanted Snapchat to collect user data first, and then use that data to make sure that ads were sent only to those Snapchat users who would find the ad "relevant." The CEO said that these companies wanted to make sure that their ads were shown only to people that would want to see them. According to Spiegel, his response was, "
Why don't we just ask them if they want to see it?
" Based on the early response, it seems that many Snapchat users did want to see the ads, giving hope to the idea that the app could turn a profit sooner than originally thought.
Will this raise the valuation of Snapchat? We will have to wait for the next round of funding to know for sure. That is, unless the app gets acquired before then.
source:
LATimes