Smartwatches are getting banned by colleges and universities worried about cheating
55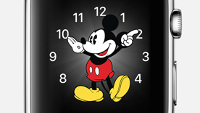 First, it was the mini-calculator. Colleges and universities worried that students could possibly cheat on math tests using them. But because prices have allowed the device to become ubiquitious, most schools will allow students to use them on certain tests. Then came the smartphone, bringing Google in tow. And while those have been banned from exam rooms, along comes the smartwatch.
A couple of months from now,
the Apple Watch is expected to be released
which should send the popularity of connected timepieces soaring to a whole new level. One university out of London said last year that the Apple Watch would create "
a problem in the examination hall from 2015 and beyond
," mostly because proctors wouldn't be able to tell the difference between the device and your typical unconnected digital watch. Part of the focus on the Apple Watch is due to Apple's plan to make the device part fashion item, part tech device.
Universities around the globe have started banning all watches from the exam room since it really is not feasible to ask a proctor to examine each student's timepiece. City University in London now considers a smartwatch to be the same as a smartphone when it comes to students taking an exam. That means that students attending that University remove their smartwatch and smartphone and put them in a plastic wallet under the desk. Exam rooms at City University now have more large clocks hanging on the wall, and students can request a desk clock to check the time while taking an exam.
"Students are already asked to place mobile phones in a plastic wallet under their desk, so we adopted the same procedure for watches. Students either don't wear them to an exam venue, or they remove the watch in the venue and place it in the plastic wallet...we also increased the number of large wall clocks available in the examination venues, bought small desk clocks for any student who requests one as well as a small quantity of RNIB-approved desk clocks for use by any student who needs one."-City University (London)
The next device for colleges and universities to worry about? How about the
smartring
?
source:
BuzzFeed
via
MacObserver
,
SlashGear