Smartwatch too cumbersome for you? How about a smart ring?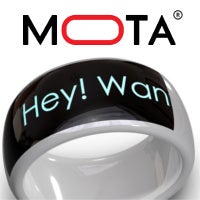 MOTA is a California-based startup that specializes in high-tech gadgets, such as 3D printers, wearable smart devices, and portable battery solutions. The name comes up now, because the company is about to unveil a wearable that everybody has been brainstorming about, since the first smartwatch came out. Namely – MOTA is about to debut its smartring device at this year's IFA.
The device doesn't carry a fancy name. Subtly called SmartRing, it is a sleek band that comes in two colors – midnight black and pearl white. It totes a display on one side, which shows its images in cool cyan on a black background.
The ring will come with a companion app, compatible with Android and iOS. Once paired, it will be able to receive notifications for texts, emails, Facebook and Twitter events and messages. If one wishes to limit the amount of notifications that get fed to their smartring, the app has a VIP list to help filter out the less-important stuff. The company claims that, given the ring gets a favorable reception from the public, the number of supported social apps will grow to include Instagram, Uber, and LinkedIn.
The display fits a single notification icon, with a number for unread events. If the user desires, they can also read the messages, as the smartring's screen can hold the height of a single line of text – reading a whole message would mean that one would have to scroll word for word – probably not the most comfortable way to do it.
Renders of the device also show it displaying time and weather information. Unfortunately, the pre-order page is still not active and we have no leads on pricing. With only a couple of days to IFA's start, we should soon have info on the price tag, as well as some real-life shots to see whether the device looks as good as it does in the renders. Not to mention that we are very curious about its battery life.
source:
MOTA
via
SlashGear