Small stores luring new customers with maps
8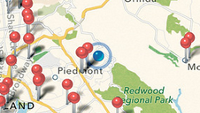 According to a story in the Wall Street Journal, smaller retail chains are trying to lure customers to their locations by sending out maps of their stores' floor plans. Customers can access these maps on their smartphone or tablet and can figure out where a certain product is located inside a store. Or, if a certain retailer is found inside a mall, the map can show you where the store is exactly located.
Some stores are allowing smartphone and tablet users to check the inventory of certain products. Another feature allows you to compose a shopping list and find the best route around a store for you to pick up your goodies. Businesses and retailers upload their floor plan for free to Google, Nokia or other indoor navigation apps.
While large stores can use this technology too, it is the smaller establishments that need to offer something like this in order to compete with larger companies that can spend more on advertising and promotion.
"Great customer service is an important differentiator for us, so offering our customers options for shopping with their mobile devices and the ability to reserve online for in-store pickup helps us deliver on that promise. Having mobile shopping options that help us bring more customers in-store helps us compete on a more even footing with e-commerce retailers."
-Mike Baranov, director of online operations, Footwear etc.
source:
WSJ