Small and medium businesses prefer iPhone and iPad over Android, WP or BlackBerry
23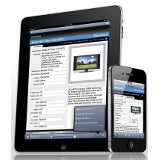 The guys from Intermedia, who are providers of cloud services to small and medium businesses, have been curious to know what kind of mobile operating systems their customers are using, and the data that came out showed that Apple's iPhone and iPad are still the undisputed leaders in this space.
Although Android has owned the lion's share of the market as a whole, when it comes to the number of activations, it turns out that if we only take a look at the business, we'll see that iOS is still the preferred platform. The survey made by Intermedia covered 500,000 accounts of their customers, all of which working for small- and medium-sized businesses. You'll probably be surprised to know that of those 500k accounts, 68.2% have been using iPhones, while only 25.1% have had Android smartphones.
Still, Intermedia notes that since the survey was done in the period of September to November, the iPhone might have had a bit of an unfair advantage, due to the launch of the iPhone 5, which has brought a significant boost in iPhone sales. Even if it wasn't for the iPhone 5 launch, however, it is believed that the iPhone would still have accounted for the biggest share.
Actually, after iOS and Android, it's as if the other operating systems are represented by only a handful of devices. For example, the third place is taken by BlackBerry with 4.1%, followed by Windows Phone at 2.6%, both of which used to be very strong players in the business field. Their paltry shares now come to show how drastically the landscape has changed in just a few years.
Switching our focus to the tablet, side of this survey, we find an even greater gap between Apple's representative and the competing platforms. Here, the iPad is the ubiquitous choice for businesses, as it seems to be the preferred tablet computer for an enormous 92.6%. Surprisingly, Android isn't even second, as the that place belongs to the BlackBerry PlayBook, which accounts for
5.3
% of the market. For now, Android tablets will have to put up with the third place in this category and the unsatisfactory share of
2.3
%. The poor performance by Android as far as tablets go is explained with the low number of quality tablet applications, especially when it comes to productivity. There's been some movement in this space recently, but it's been mostly gaming titles that have gotten optimized for bigger screens. Although Google is putting a lot of effort into popularizing Android as a tablet platform, usually by offering well-equipped devices at very low prices (
Nexus 7
,
Nexus 10
), the tablet market seems to remain beyond its reach for now.
While the study conducted by Intermedia covers small and medium businesses, it is said that Apple is currently holding leading positions with large enterprises as well.
via:
Electronista