Shark Tank's Mr. Wonderful says BlackBerry's new phones are not getting any traction
88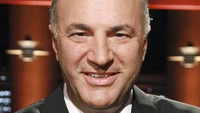 The last time we wrote about
Shark Tank's
Kevin O' Leary, it was over two years ago. At that time, O'Leary made news by
switching from his Apple iPhone to the BlackBerry Z10
. The billionaire, known for the royalty deals he offers entrepreneurs on ABC's hit show, runs a family of funds which means that he keeps his analytical eye on BlackBerry. The fact that he is Canadian also might have a bit to do with it.
O'Leary says that "
If you can't garner a 5% market share globally, you probably don't have a long-term prognosis that's good, and you're going to eventually have to sell to somebody else
." O'Leary must see a sale in BlackBerry's future since
the company was able to garner only a .4% global market share
during the first quarter, according to Gartner's latest report. Part of the problem, according to the sarcastically nicknamed Mr. Wonderful, is that the sales reps handling phone buyers for carriers are not familiar with BlackBerry's phones and software.
The billionaire, who sold his software company to Mattel for billions of dollars, says that he doesn't see people using BlackBerry handsets in the U.S. anymore, and mentioned that the
BlackBerry Passport
and
BlackBerry Classic
are not getting any traction. This has been backed up by
reports from global securities firm Morgan Stanley
and
Canadian bank
RBC
.
As far as a sale of the company is concerned, takeover rumors have been swirling around the company once again, with talk that
Microsoft is considering a $7 billion bid for BlackBerry
. Earlier this year it was
Samsung that was the rumored suitor in a $7.5 billion deal
that never materialized.
Thanks for the tip!
source:
MotleyFool