BlackBerry Passport and BlackBerry Classic not selling says Morgan Stanley
97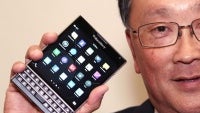 Brokerage firm Morgan Stanley said in a note to clients on Monday, that the two new BlackBerry handsets that were supposed to sure up the company's recovery are not selling. Morgan Stanley's analyst covering the company said that sales of the
BlackBerry Passport
and
BlackBerry Classic
are "
not tracking anywhere close
" to expected sales numbers.
Morgan Stanley says that only 8000 units of the business-centric BlackBerry Passport and old-school BlackBerry Classic have sold in the current quarter. Morgan Stanley says that the company needs to sell a total of 2-3 million units of these new models during its 2016 fiscal year. In addition, the brokerage firm said that it is unlikely to sell the targeted $500 million in software revenue that the company has been aiming for.
In the note, Morgan Stanley said that the BlackBerry name is becoming a hard sell, even to enterprise customers. When the Passport first launched with its wide 4.5-inch 1440 x 1440 screen, and touch-enabled physical QWERTY keyboard,
it sold out 200,000 units quickly
. A
second batch was also sold out
.
AT&T recently launched a specially revised version of the phone
for the U.S., with rounded corners.
The BlackBerry Classic, which is also available from AT&T, brings back the design of the
BlackBerry Bold 9900
but with the BlackBerry 10 OS. It features the old-school trackpad and function keys along with keyboard shortcuts.
North American pre-order inventory of the phone was sold out
back in December.
Morgan Stanley said on Monday that it is reiterating its $7 price target for the stock and keeping its underweight rating. BlackBerry's shares are currently trading at $9.65, off 16 cents for the day.
Thanks for the tip!
via:
Benzinga.com