Sergey Brin focused on Project Glass: hopes for official release "sometime next year"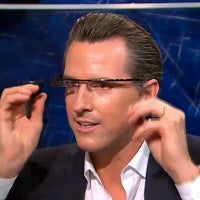 Project Glass is one of the main focuses of the main focuses of Google's Sergey Brin, one of the founders of the search engine, and hopes are that it could
hit retail shelves

"sometime next year."
Brin sat for an hour-long interview on Project Glass and his bigger involvement in Google X, the company's research and development structure, but what's most interesting is that we got to see how Brin actually controls the glasses.
It seems that the side panel currently is actually touch sensitive, so you basically use it as a touchpad, and one thing you can do easily is zoom in and out of photos.
Still, it seems that it's more likely that the Project Glass will arriver later than next year. Here is Sergey Brin's very conditional statement about the possible release date:
"I have some hopes to maybe get it out sometime next year, but that's still a bit of a hope."
What's also interesting is that now we know that the glasses have been worked on in the last 2 or 3 years at Google X. Also, the company is prototyping some far out projects, replacing the traditional phone and computer.
Brin himself has been involved in Project Glass in the last year, so it seems that it's definitely got some momentum. Check out the demonstration video and the lucky TV host who got to try the glasses on, all below.