Samsung's new ad knocks competitors' tablets
76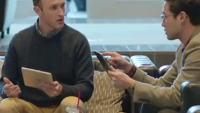 Samsung's new ad for its Samsung Galaxy Pro series of tablets really takes some shots at the competition. A panicked Apple iPad owner is asked to multitask by his boss. "
(My iPad) can't do two things at once
," he confesses as the Samsung Galaxy Pro user has no problem multitasking. In another scene, a
Microsoft Surface
user with a Type Cover is asked to move "his laptop". Trying to explain that it is a tablet, he admits that it has a keyboard, battery dock and a mouse. On second thought, perhaps it is like a laptop.
The next scene shows the ladies' book club out for tea. "
This book makes no sense
," says one of the ladies and anther suggests they look up an analysis of the book on YouTube. Except that the club member with a Kindle moans, "
My Kindle can't get this app
." When someone asks what her Kindle can do, she says, "
Books
."
Lastly, two women are relaxing at a spa while one is viewing a video on her Galaxy Pro. The other says, "Your Samsung looks better than my iPad because it has more pixels?" When the Samsung owner confirms this, the iPad owner says, "
But mine has the Retina thingy
." And the Samsung Galaxy Pro owner can only go on with a knowing smile.
Samsung has been known for its rather blunt ads that attack the competition, starting with the famous ad for the Samsung Galaxy S II that
featured the barista
. You can check out Sammy's new tablet spot by clicking on the video below.
source:
SamsungMobile
via
CNET