Samsung's Galaxy S7 gets its own line in front of a Samsung store in Europe, sells 2.5 times more than its predecessors
99+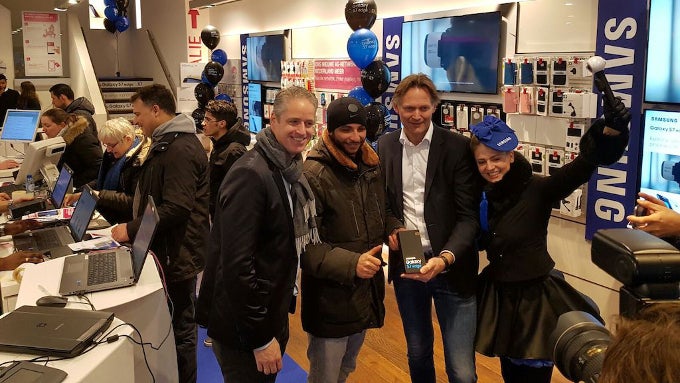 Samsung Galaxy S7 and S7 edge launch in Netherlands
Samsung's
Galaxy S7
and
S7 edge
sure are a pair of attractive devices – they continue the metal-and-glass design language of their predecessors, but have much more compact and ergonomic shapes,
IP 68 certification
, an
even better camera
, and a number of software improvements and optimizations.
It seems the new devices have truly won customers' favor this time around, as various reports point towards pre-orders for both handsets
topping expectations
. Now, Samsung Netherlands has gone on record to say that the pre-orders for the new Galaxies are over 2.5 times higher than "previous Galaxy flagships". The report does state that the demand is 2.5 times more than in previous year
s
, so we wouldn't go saying that the S7 is 2.5 more desirable than the still beautiful
Galaxy S6
.
Out of the two new smartphones, the S7 edge is the people's champion, as 61% of customers chose it over its smaller sibling. To top it off, the report details how the new Galaxies had their fair share of eager customers waiting in line to be the first to get their phone at 2 am this morning from the T-Mobile store in Lijnbaan, Rotterdam.
Today is the official launch day for the two smartphones in most markets worldwide. Some pre-orders were shipped earlier, as part of a "get it 3 days early" bonus for eager customers, which is why some users were already boasting about their brand-new handset in online forums and social media. But if you want to walk into a brick and mortar store and buy your brand new Samsung flagship on the spot, you should be able to do so at most retailers starting today. The Galaxy S7 starts at $649, and the Galaxy S7 edge can be had for as low as $749.