Samsung to offer 70 apps for its Gear smartwatch, a dozen are on the way
20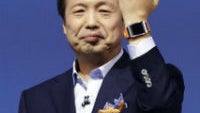 Having a well-stocked app store is one of the necessary requirements for a platform to succeed and it is no different with Samsung's Galaxy Gear smartwatch. 12 apps are coming to the timepiece soon and overall more than 70 apps will be made available for the watch. A published report on Thursday listed the dozen apps that are on the way and many should be familiar to smartphone owners.
Atooma
is an app that lets you do "if-then" programming for the device. For example, you can have the watch take specific action based on the time of day, your location, or battery level. For example, you can set the app so that the watch shuts down some battery-intensive operations when the battery life on the watch reaches critical levels.
Evernote
might be a household name for smartphone users. On the Galaxy Gear, it can send pictures you take with your watch and save it to your notebook. On the other side of the equation, the watch can display information taken from the app on your Galaxy phone.
Glympse
is a GPA tracker that lets Gear users share their location with others while also offering. Users can share messages and respond to location request from others.
Another well-known app available for the Galaxy Gear smartwatch is
eBay
. Dick Tracy might be able to use his wrist radio to nab bad guys, but could he bid on a 1952 Mickey Mantle baseball card? Line is the only messaging service for the watch and allows users to send and receive IMs.
Another well-known app that is on the way is
Path
, the social networking site which will allow users to capture certain moments immediately on the watch and post it to their social network. And because this new era of smartwatches is aimed at fitness buffs,
MyFitnessPal
counts calories and tracks your fitness activity daily.
These are just a handful of the apps coming to the Samsung Galaxy Gear smartwatch and it should be enough, at least for now, to get buyers shelling out money for the device.
source:
TheNextWeb
via
BGR