Samsung suddenly yanks all traces of the Samsung Galaxy Tab 7.7 from IFA 2011
20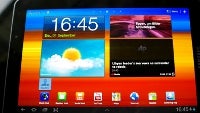 It's unclear for now if this could be due to the
Samsung Galaxy Tab 10.1 preliminary injunction in Germany
, but Samsung has removed all traces of its newest
Samsung Galaxy Tab 7.7
slate from the IFA 2011 show floor.
The injunction, which Apple won in a Duesseldorf court,
includes all marketing activities as well
, but it is explicit for the Samsung Galaxy Tab 10.1, and, as far as we are concerned, the Galaxy Tab 7.7 shouldn't be affected at all. Samsung Europe's spokesperson Brendon Gore, however, has noted that "
Samsung has removed the Galaxy Tab 7.7 from our stand at IFA. We cannot make any further comment as we have not received an official statement from the court.
"
Whatever the reason, instead of sitting proudly on display for everyone to handle,
the first tablet with Super AMOLED display
, and the other Samsung slates, have been removed from their stands, all mentions of them in promotional materials covered, and the Galaxy Tab 7.7 has disappeared from Samsung's German website.
Below is a preview video with the Galaxy Tab 7.7 clearly labeled "Not for sale in Germany", so this yanking might be Samsung overinsuring itself against any obscure
Community Design napkin sketch
Apple could come up with, and sour the tablet's marketing debut until the court's decision. FOSS Patents' Florian Mueller, however, comments:
"
Until we all find out what the legal reason for Samsung's removal of the Galaxy Tab 7.7" was, it's difficult to tell what the more likely scenario is. My guess is that Apple obtained a new court decision rather than getting into any argument over whether the existing one applies. German courts can move very quickly with these injunctions. Maybe Apple filed for it in the morning, received the document in the afternoon or today (for such preliminary injunctions, the courts are also available on weekends) and then sent someone to Berlin to serve the document on Samsung.
"
This legal spat in Europe seems already ridiculous to the point of stupidity, if the above mentioned scenario holds any water, since the injunction was for the Samsung Galaxy Tab 10.1, the 7-incher is rather different than Apple's tablets, but who knows
what arguments Apple's lawyers might have come up with
.