Apple's German court filings made the Samsung Galaxy Tab 10.1 look more identical to the iPad 2 than it is
47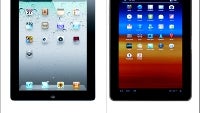 This shouldn't come as a surprise considering that tweets from the Dutch courtroom, where Apple was trying to win
an injunction and sales ban of the Samsung Galaxy Tab 10.1 in the Netherlands
, said that lawyers on both sides came down to the "they started it first" level.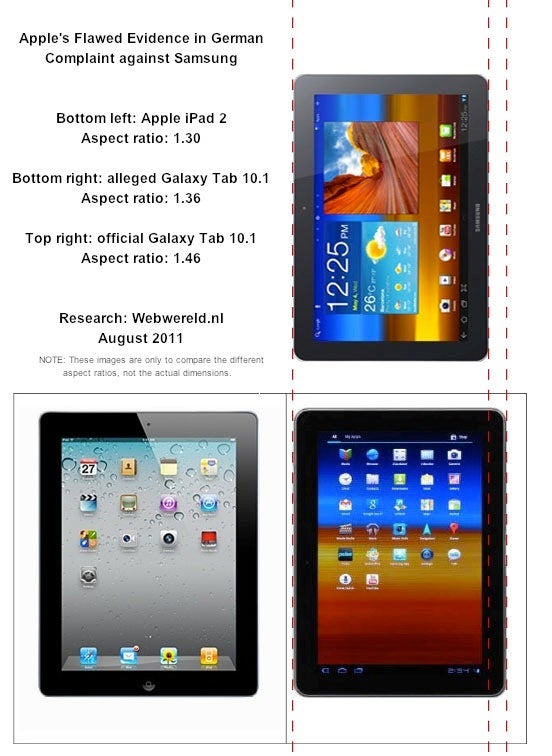 Still, it looks like Apple, or most likely its German legal team, might have done some quick Photoshop-ing on a picture of the Samsung Galaxy Tab 10.1 next to an iPad 2, and presenting it as a visual aid in court. On page 28 of
the Duesseldorf court complaint with which Apple won a pan-European sales ban for Samsung's flagship tablet
, the image of the Galaxy Tab 10.1 looks stretched to 1.36 aspect ratio, which is closer to the 1.3 on the iPad 2, thus making them look more similar than they actually are.
To top it off, although in Europe the Samsung Galaxy Tab 10.1 comes with the
TouchWiz UX
preinstalled, Apple used a screenshot of the app drawer, where applications icons sit in a grid just like, well, on the iPad 2 in the picture next to it. The legal team also appears to have used the picture of a non-European version, since
the Samsung logo on the bezel is not present
, while a
quick trip to Amazon Germany
or local electronics retailers have shown it should be there.
Apple's German counsels of the Freshfields, Bruckhaus & Deringer firm were probably overzealous to earn their legal fees, but they shouldn't have gone to such lengths, if the manipulation has been done on purpose. We already saw that German courts are obliged to
grant injunctions over a few vague tablet Community Design sketches that Apple has submitted in 2004
anyway. Moreover,
the actual complaint
also contains real photos of both tablets side by side, so there was no point of stooping to eager intern levels in convincing the judge - once the sketch rights have been granted, the only thing left for the court is to pull the trigger now and ask questions later, the way that this EU Community Design system has worked since 2002.
The law firm has declined to comment on the stretched image investigation, which was done by the Dutch IDG publication Webwereld, whose editor Andreas Udo de Haes has been diligently tweeting all the developments from the courtroom, for which we are thankful.
source:
Webwereld.nl
(translated) via
Computerworld